If you have multiple blind spots on and around your driveway then these can pose a significant safety hazard. But this doesn't need to be as big a problem as you might think it is. By using a parking mirror, you will be able to pull on and off the drive without the additional worry of bumping into something, or worse, causing a serious collision with passing traffic. 
In this guide, we will be looking at some of the best options for driveway mirrors for your driveway as well as giving you some handy tips on making the right decision and placing the mirror correctly. 
Updated – June 2021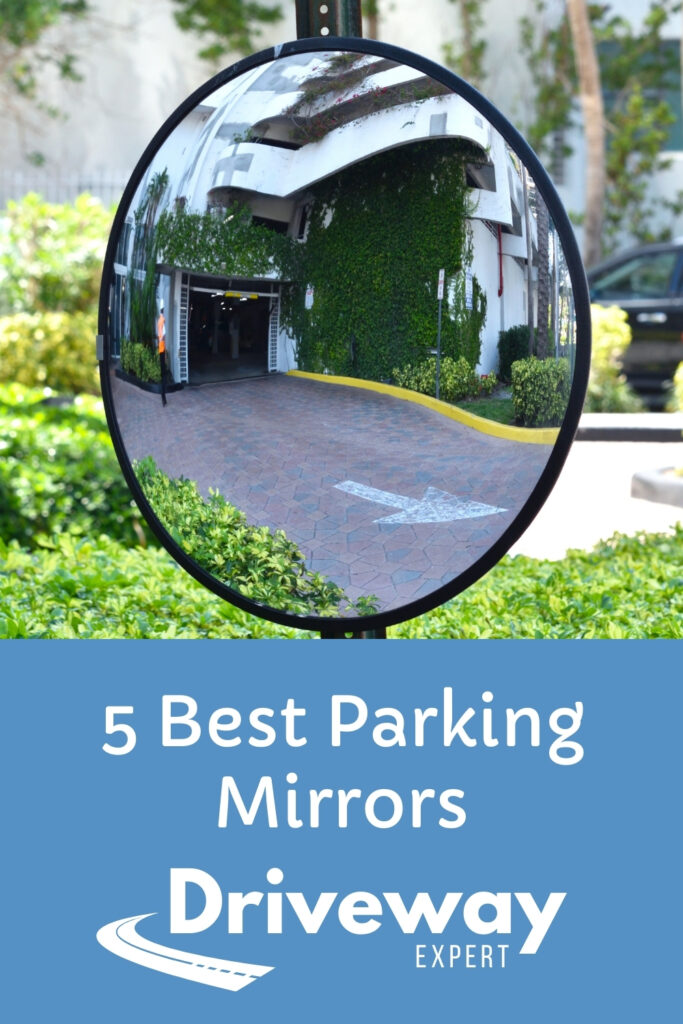 Why Is A Driveway Mirror Important?
When you are reversing a vehicle onto or off of a driveway, things aren't always 100% clear and there may be areas that you are unable to see. While there are mirrors on your vehicle, these do not always give the perfect view so installing a driveway or parking mirror will reduce blindspots allowing you a clear view on and off your driveway. 
If your driveway opens out onto a curved road where visibility is limited, you may also wish to install a mirror at the exit of the drive to get a better view of what is around the bend. You will notice that, around the UK, many local councils install these mirrors on roads where there are tight bends to allow for a better view and reduced accidents. 
How To Choose A Driveway Parking Mirror
When it comes to buying a parking mirror, most people will not have made this kind of purchase before. This is typically something that you will only buy once as once it is in place, you won't need to move it. In any case, it is important to look at the features of the mirror and make sure that it is exactly what you need. 
Number Of Blind Spot Mirrors
In a lot of cases, a single mirror will provide more than enough visibility to safely reverse onto the driveway if there are obstacles such as posts or trees, for example. 
However, if you are purchasing the mirror to be placed at the exit of the driveway, you may need to consider installing two mirrors here. It is possible to install just one and get a relatively wide angle view of the road from both sides. But there is much greater safety in strategically placing two convex parking mirrors so that you have an excellent view from either side of the road. 
Viewing Distance
If you want to obtain maximum visual clarity when using your mirror, it is vital that you purchase one that is large enough and has the correct viewing distance. You will usually find that the larger the mirror, the greater its viewing distance will be. For example, a smaller 30cm parking mirror may only have a viewing distance of three meters. But when you move up to a 50cm mirror, the viewing distance will increase to up to seven metres. 
Parking Mirror Height
Before you buy your driveway parking mirror, it is essential that you look at where it will be placed. If it is not placed at the correct height, then it will not function as intended. The mirror should be placed at a height which allows you a good view of the driveway without the need for moving from your usual seated driving position. 
That said, it is also imperative that the placement of your mirrors does not interfere with passing road users. If it is placed in a bad position, it may reflect light causing visual obstructions to passing traffic.
What Materials Have Been Used To Make The Mirror?
When you think of a blind spot mirror, you might instantly think about glass but this is not always the best choice, especially for mirrors that are going to be used outdoors. But then, there are pros and cons to this. For example, a glass mirror is very easy to clean and when it is well-maintained, the reflection is immaculate and crisp. But, as we have mentioned, their fragile nature means they wouldn't last very long outdoors.
Instead, convex mirror manufacturers use a variety of alternative materials which provide great reflection and are much more durable and suitable for use outdoors. One of the most common materials is acrylic which is beautifully lightweight and doesn't cost a lot to manufacture or purchase. That said, it is almost as easily breakable as glass which puts it at a major disadvantage. 
Stainless steel is another option but this comes at a much higher cost. However, its durability far exceeds anything else so if you are looking for something that will stand the test of time then this might be the best option. Naturally, stainless steel doesn't have a very reflective surface but when it is used for parking mirrors, manufacturers apply a special finishing process to vastly improve this. 
Finally, you may opt for a polycarbonate mirror which is incredibly robust and in many cases, as good as unbreakable which is great if there is a high risk of impact. However, there is a downside to this and that is that polycarbonate is much less resistant and therefore is susceptible to scratches which can be difficult to remove. There are those that come with a scratch resistant coating so this is an important feature to look out for. 
Is The Driveway Mirror Easy To Maintain?
In order to make the most of your parking mirror, you will need it to be well-maintained. This is especially true if the mirror is mounted close to a busy road where dirt and dust will be a continual problem. For this reason, one of the first things you should look for is that the mirror is easy to clean. 
Going for one with a scratch resistant coating, as we discussed earlier, is important if you want to avoid having to replace it soon down the line. You will also need to make sure that every time you clean the mirror, you take the time to check for damage and ensure that it is not only safe enough for you to rely on in terms of view but also that there is no risk of it falling and causing an accident. 
Finally, if you want to avoid high levels of maintenance, you must find a location for the mirror that doesn't become easily overgrown with plants or trees. Of course, you need to place the mirror where it will provide the best view but if you can find a balance between the two then you won't have as much work to do over time. 
Top 5 Best Driveway Parking Mirrors
Even after you have considered all of the points we have discussed so far in this guide, it may still be challenging to the right mirror for you owing to the vast choices available. But we have got your covered since we have reviewed and checked out a plethora of parking mirrors and we feel confident that these are some of the best on the market.
Best Mirror For Long Distance Viewing
SNS Safety Ltd Convex Traffic Safety Mirror For Driveways
This is a sleek looking parking mirror that won't look out of place on your driveway. It features a wide 60cm diameter making it perfect for homes where visibility is needed over a slightly greater distance. 
Made from a durable polycarbonate material, this is an ideal solution for areas where an impact is a possibility. The mirror is virtually unbreakable. Moreover, once the protective film is removed, the polycarbonate surface is incredibly reflective giving you a very clear view of what is coming around the corner. 
One of the first things that jumped out to us about this mirror was that it is so easy to install. It is lightweight and doesn't require a great deal of strength to lift in position. What's more, it comes with a pole bracket. However, you do need to supply the pole yourself. If you prefer, the mirror can be mounted on a wall and there is an option to purchase a wall mount separately. 
| | |
| --- | --- |
| Pros | Cons |
| Easy to clean | Doesn't come with pole |
| Easy installation | |
| Very reflective and clear | |
| Excellent durability | |
| Large size | |
Kertou Panoramic Mirror
If you have a smaller driveway without the need to see as far, then this mirror from Kertou may be suitable for you. With a diameter of 30cm, this is a convenient and simple solution for most domestic situations. Moreover, this convex mirror is beautifully easy to install and comes with all the fittings and a bracket so you don't need to purchase anything else. The bracket is adjustable which allows you to configure the mirror to your needs.
But what is most impressive about this mirror is not that it comes at an affordable price, or that it boasts just as pleasing an aesthetic design as the previous, more expensive mirror, but that it offers extreme durability. It is made from polycarbonate which, as we have learned, is super robust and in this case, if the mirror is impacted or deformed, it will quickly return to its original shape. 
| | |
| --- | --- |
| Pros | Cons |
| 130º curve | Fittings could be more robust |
| Ideal for smaller driveways and corners | |
| Affordable | |
| Comes with fittings and bracket | |
| Durable | |
Best Budget Mirror
Wheels N Bits 30cm Convex Mirror
When you think about buying a parking mirror, you may have thought that you would have to part with a significant amount of money. But truth be told, there are several excellent parking mirrors out there that offer everything you would expect for a fraction of the cost. 
This is a 30cm mirror so ideal for small to average driveways with a lesser need for greater distance viewing. Moreover, it comes with an adjustable bracket to make securing it quick and easy. Much like the other options on this list, the mirror doesn't come with a pole but these can be purchased relatively cheaply from any good hardware store. 
Something that not all convex mirrors come with is a rain and sun guard but this one boasts this feature meaning that your view won't become obstructed when the weather turns. 
| | |
| --- | --- |
| Pros | Cons |
| Ideal for smaller driveways | Brackets might not fit all poles |
| Comes with fittings and screws | |
| Adjustable bracket | |
| Rain cover | |
| Affordable | |
 Best Overall
45cm Convex Traffic Safety Mirror
Coming in a bright red design, this is not a mirror that you will find hard to spot! But more importantly, it boasts a large 45cm diameter to give you a greater view of what's around the corner. It is made from a durable polycarbonate material which is perfect for outdoor use and provides you with a mirror that will stand up to impact and long term use. 
Like the previous mirror, this one features a rain cover to prevent vision from being obstructed but the advantage of this one is that it can be mounted to a wall and doesn't need an additional pole for stability. Moreover, at just 1.45kg, this mirror is lightweight without compromising on its robust design. 
| | |
| --- | --- |
| Pros | Cons |
| Large diameter | We couldn't find anything wrong with this mirror |
| 130º curve | |
| Rain cover | |
| Durable materials | |
| Comes with fittings | |
Traffic Mirror Wide Angle Safety Convex Mirror
Most of the parking mirrors you will see are round but this one features a rectangular design and is much smaller at just 19cm. This makes it ideal for small driveways that require something to aid the driver on and off the area safely. That said, if you do need something bigger, the mirror does come in a larger size at 24cm.
It is incredibly flexible making it resistant to impact and being low maintenance is easy to clean and doesn't require any adjusting after installation. Moreover, the mirror is made with a durable polypropylene which is different from the usual polycarbonate. This material boasts a long lifespan and incredible stability. The mirror comes with a universal joint and all the fittings so it can be attached wherever you need it. 
| | |
| --- | --- |
| Pros | Cons |
| Comes with fittings | Slightly more expensive than other similar sized mirrors |
| Choice of sizes | |
| Flexible material | |
| Excellent durability | |
| Easy to install and maintain | |
Conclusion
A parking blind spot mirror is a simple yet extremely effective way of ensuring optimal safety as traffic reverses in and out of your driveway. With blindspots, there is a great risk of colliding with an object or worse, an oncoming vehicle as you enter the road from your drive. 
These mirrors are made from high quality materials that are designed for durability and will last a long time with very little maintenance. While there are a few things that you need to keep in mind, buying a parking mirror will be one of the biggest advantages to your property that doesn't cost the earth!