The UK is known for its unpredictable weather and you just never know when the heavens are going to open. Getting out of your car on the driveway and fumbling around in your bag or pocket for your keys is enough time to be positively soaked.
However, installing a door canopy gives you a great place to shelter from the storm while you get your things together. What's more, these simple outdoor accessories help to create a much more welcoming entrance and will quickly boost the curb appeal of your property.
Updated – June 2021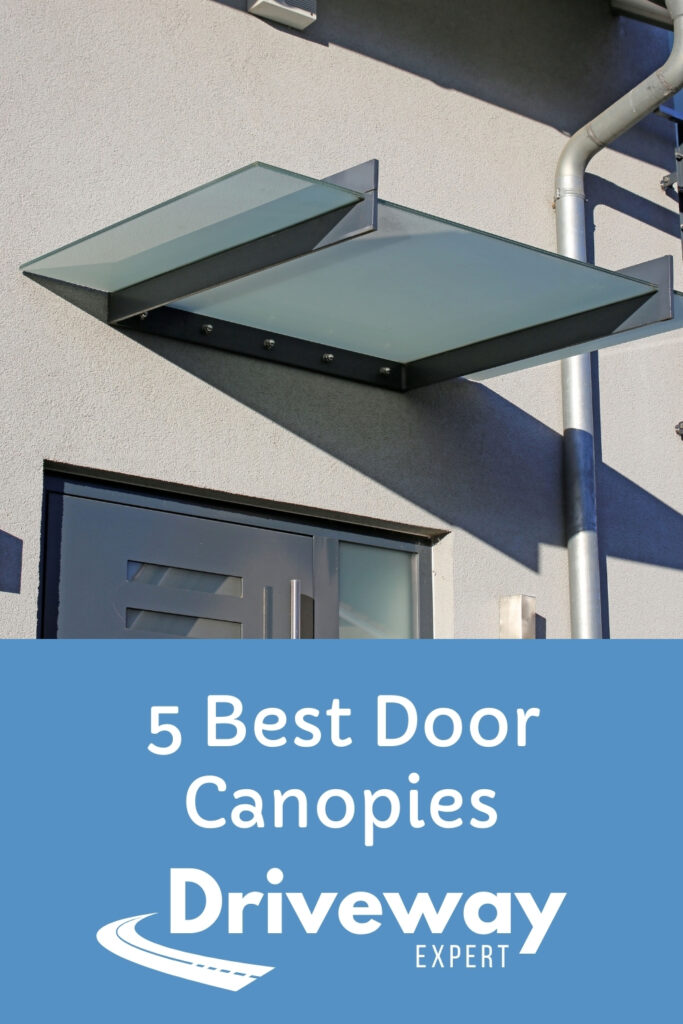 Our Top 5 Picks For Door Canopies
Every manufacturer is going to tell you that their door canopy is the best and while we don't doubt that there are a lot of quality products on the market, these ones really stood out from the crowd. 
Best Overall Door Canopy
Palram Bremen Door Canopy
Palram Canopia Bremen Door Canopy (1500)
Modern Entrance Door Covering – Clean Style Design Strong & durable solution to protect your door...
Classic design integrating with any home style and outdoor environment
Crystal-clear 4 mm hi-impact Acryl panel, with protective filters from harmful UV rays
While this is one of the more expensive door canopies on the market, there are a lot of things that stand out about it. One of the first is that this is a large canopy so if you have a wider entranceway, you won't need to invest in more than one canopy; it isn't uncommon for people to choose a smaller, more affordable option and end up having to buy two to cover the entire doorway. 
The Bremen door canopy is made by Palram which is a hugely popular brand so you know you will be getting quality. This quality is demonstrated in the powder coated galvanized steel frame which gives you an extremely sturdy support for the stunning clear canopy. Moreover, these materials are highly durable and will withstand all types of weather. The canopy itself is a 4mm thick acrylic which will resist impact perfectly. But if it doesn't, you're covered by a 3 year warranty so you can rest easy. 
But what we really love about the Bremen door canopy is that it is super easy to install and comes with everything you need for DIY installation. Once it's up, the door canopy is completely maintenance free so you don't need to worry about dedicating any more time to it. 
| | |
| --- | --- |
| Pros | Cons |
| Large coverage | Expensive |
| Easy to install | |
| Extreme durability | |
| Lengthy warranty | |
| Maintenance free | |
Best Budget Door Canopy
Outsunny Curved Window Door Canopy
As one of the most well-respected outdoor brands, Outsunny has created this sturdy and long-lasting door canopy that will adorn your entranceway for many years. It is made from a durable polycarbonate which is supported by an aluminium frame. Not only does this mean that the canopy will stand the test of time but it is also lightweight. 
The Outsunny door canopy comes with all the fixings you need to attach it and with a 120cm width and 75cm depth, you'll have plenty of space to take shelter. 
For such an affordable door canopy, you might be forgiven for thinking that it doesn't come with any special features. But the truth is that this canopy has many of the protective features you would expect from something much pricier. For example, it has a special coating to protect from UV rays but that still allows light to penetrate through which is great if you have a glass doorway and don't want to darken the interior.
With a modern, sleek design, this door canopy is ideal for homes with a fresh new look and will provide the icing on the cake in terms of appearance. 
| | |
| --- | --- |
| Pros | Cons |
| UV protection | Two part assembly can be tricky |
| Water resistant | |
| Lightweight | |
| Excellent durability | |
| Good size | |
Best Extra Wide Canopy
VOUNOT Front Door Canopy
Sale
For just a little more than our most affordable canopy; the Outsunny, you can get this extra wide door canopy that is ideal for larger entrances. While it may not have quite as pleasing an aesthetic design, it is anything but ugly. In fact, this door canopy is the perfect balance between functionality and modern style. 
Moreover, the VOUNOT front door canopy is lightweight but impeccably stable. While it is easy to install, many users have reported that installation could be easier. However, you get all the fixings and everything you need for easy DIY. This is the largest canopy in the range at 200cm x 80cm, however, if you need something smaller it also comes in two smaller sizes; 100cm x 80cm and 120cm x 80cm.
In terms of practicality, this door canopy has everything you need for ultimate protection. At such an affordable price, we were bowled over by not only the durability of the frame but the extreme impact resistance of the 6mm polycarbonate panels. What's more, with a sloped design, rain water won't pool on top and with UV filters will keep you safe and protected. 
| | |
| --- | --- |
| Pros | Cons |
| Lightweight | Could be easier to install |
| Very stable | |
| Excellent durability | |
| Makes less noise when raining | |
| Weatherproof | |
Best Luxury Canopy
Palram Iris 1780 Canopy
The Palram iris canopy boasts a stunning, ornate design that makes the perfect complement to retro exterior decor. Not only is this a practical solution but it is also superbly stylish and will make an impressive statement. 
Made with a strong aluminium frame and powder coated steel supports, the Iris is a canopy that will remain stable over the course of time. It benefits from 4mm acrylic panels which are UV resistant and robust. What's more, this door canopy is totally maintenance free; put it up and forget about it. 
We cannot ignore that this is one of the more expensive canopies in our top picks, but when you compare its quality and aesthetic design to others, it is clear to see why it is a worthwhile investment. This is a much heavier canopy so it may require two people to install it but it is sure to add an air of luxury to your property. And if you aren't keen on the retro design, this canopy comes in two more choices including a modern option. 
| | |
| --- | --- |
| Pros | Cons |
| Beautiful design | Heavy |
| Wind and weather resistant | |
| Strong steel supports for stability  | |
| Maintenance free | |
| Rust resistant | |
Best Classic Canopy
UK Canopies Althorp Front Door Canopy
No products found.
If you are looking for a more traditional style door canopy then the Althorp is a great choice. It comes in a range of colours but we particularly like the slate grey which fits in perfectly with any home exterior. The canopy benefits from UV resistance making it the perfect place to shelter from the sun. It is very durable, but being made solely from a polymer, as opposed to metals like steel and aluminium, its durability might be less than some of the others on this list. But that is not to say that it won't last many years.
The Althorp comes with everything you need for installation; aside from a drill, you'll need to dig yours out of the shed. Once up, the canopy is low maintenance and requires nothing more than occasional cleaning to keep it looking its best. 
This is a door canopy from a UK company and everything is British made. If you are concerned about ending up with a cheap import then this is an option worth considering. The price may be slightly higher but this demonstrates the quality and elegant design of the product.
| | |
| --- | --- |
| Pros | Cons |
| UV resistant | Slightly less durable than others |
| Comes with tools and fittings | |
| Low maintenance  | |
| Suitable for medium sized doorways (75cm x 149cm x 97cm) | |
| Made in the UK | |
What Are The Benefits Of Owning A Door Canopy?
A door canopy will instantly update the look and feel of your home's exterior. If you are looking for an easy way to brighten things up and create a more welcoming entrance, then a door canopy should be a serious consideration. 
If you have visitors who need to step outside for one reason or another, whether this is because they are a smoker, need to take a phone call, or simply want some fresh air, a door canopy gives them somewhere sheltered to stand. If you have a larger canopy, you might even place a small bench underneath for an even more comfortable experience. 
When you can't find your keys, there is no longer any need to stand in the rain if you have a door canopy. 
For the most part, door canopies are affordable and very easy to install so if you are looking for an easy weekend project, this could be the way to go. 
What To Look For In A Door Canopy
We are confident that you will have seen a door canopy among our top picks that takes your fancy. However, before you settle on a final choice, it is important to think about whether the canopy meets your needs. We have put together some great buying tips to help you ensure that you always get a door canopy that will not only look great but serve you practically for many years to come. 
Ease Of Installation
If you prefer, you could hire a contractor to install the door canopy for you, but of course, you must keep in mind that this is going to cost you a little extra. 
Many people opt to install the door canopy themselves, and for the most part, it isn't a difficult job. You will find that most canopies come with an installation kit that includes all the tools, screws and fixings you will need to secure your new canopy. That said, there are always exceptions to any rule so it is worth checking whether you need to buy the fittings separately to avoid a nasty surprise upon opening the box. 
Stability
The last thing that you want is to install your door canopy only for it to come loose, or worse, fall down, after a short time. Most modern door canopies are designed with stability in mind and come with incredibly robust and reliable supports. 
It is important that the frame is made from a high quality material that won't snap or weaken under stress. Since the weather in the UK can be so volatile, it isn't uncommon for high winds to pick up, even in the height of summer. In these situations, you want to feel confident that your door canopy isn't going to come loose. 
Durability
Most door canopies are pretty affordable. Even those on the higher end of the budget scale certainly won't break the bank. But while you might not have to spend a lot, you don't want to have to spend twice so finding a durable door canopy is a must. 
You should look at things like what materials have been used. For example, canopies that feature treated metal frames like galvanised steel or powder coated aluminium offer much greater durability. These materials are rust resistant and very difficult to break meaning that you will be left with a canopy that will last for many years. 
Moreover, it is essential to look at the canopy itself and not just the frame. Checking out the thickness of the panels will give you a good indication of their durability with 4mm being the average. Many products are marketed as being impact resistant and this is an important feature to look out for if you want something that will stand up to time.
Design
The great thing about creating an outdoor space is that you can show off your personality in so many ways. While a door canopy may be a functional piece of equipment, there is no reason why it cannot also be used to make a statement. 
Whether you are looking for something bang up to date to fit in with a modern exterior or something a little more traditional, there are a range of choices. You may find a canopy that ticks all the boxes in terms of build quality but doesn't have the right appearance. In this case, it is worth looking at whether the manufacturer makes other designs since they will typically have all the same practical features just with a different appearance. 
Price
As we have already mentioned, door canopies are not the most expensive pieces of equipment. You will have noticed in our top picks that it is possible to pick up a high-quality door canopy for less than fifty quid!
However, as you move up in price, you will typically find that the canopies get better. That is certainly not to say that there aren't a wealth of excellent affordable canopies, because if you are working to a tight budget, you will be able to get something special.
It is also important to factor in whether you will go for professional installation or do it yourself as the former will incur additional costs. 
Fitting A Door Canopy
Generally speaking, fitting your new door canopy isn't a difficult task. That said, while it is straightforward, you will likely need two people as it can be tricky to try and hold the canopy in place while you bolt it to the wall. Moreover, it is important that you pay close attention to the instructions from the manufacturer. If the canopy is not fitted correctly, it could pose a safety risk if it were to ever fall down unexpectedly. 
For the most part, we would suggest assembling the door canopy completely before you try to fit it to the wall. Once you have done this, you will need to locate your drill and ensure that you drill the holes in the right place. This can be tricky but with a bit of knowhow, it isn't as hard as you might think. 
The best way to get it spot on is to create a template. You can use an old piece of wood and line up the brackets, marking where the holes need to go. Then take the wood and place it on the wall drilling in the precise location. When drilling, you will need to make sure that you don't go too far and make the holes too wide. If you do, they may not hold the bolts as tightly which could compromise the stability and integrity of the canopy. 
Once you are prepared, ask your helper to hold the canopy in position while you attach the bolts to the wall. Ensure that everything fits tightly and that the canopy isn't moving around. It is possible to use a sealer at the back of the canopy which will help to ensure that it remains flush to the wall. Doing this will also stop rainwater from pouring in at the back of the canopy and down the door. 
Conclusion
If you are looking for a viable way of sprucing up the exterior of your home and you need somewhere to shelter then choosing from the many door canopies on the market will suit your needs. Before you settle on a decision, however, it is important to think about what you need from a canopy and you should look at the features to ensure it meets your requirements. 
Once you know what you are looking for, check out our top picks with everything from budget door canopies to more luxurious products, we have got you covered.