If your driveway is unfortunate enough to exit onto the road where there is a decent kerb drop, this can put unnecessary pressure on your tyres and vehicle.
But that's just the way it is, right? Not really! By using one of the best kerb ramps, you will easily be able to get on and off your driveway without that horrible 'bump.' What's more, there are also a wide variety of kerb ramps for smaller applications such as getting a sack truck up the front step to your door and for wheelchair access. 
Updated – June 2021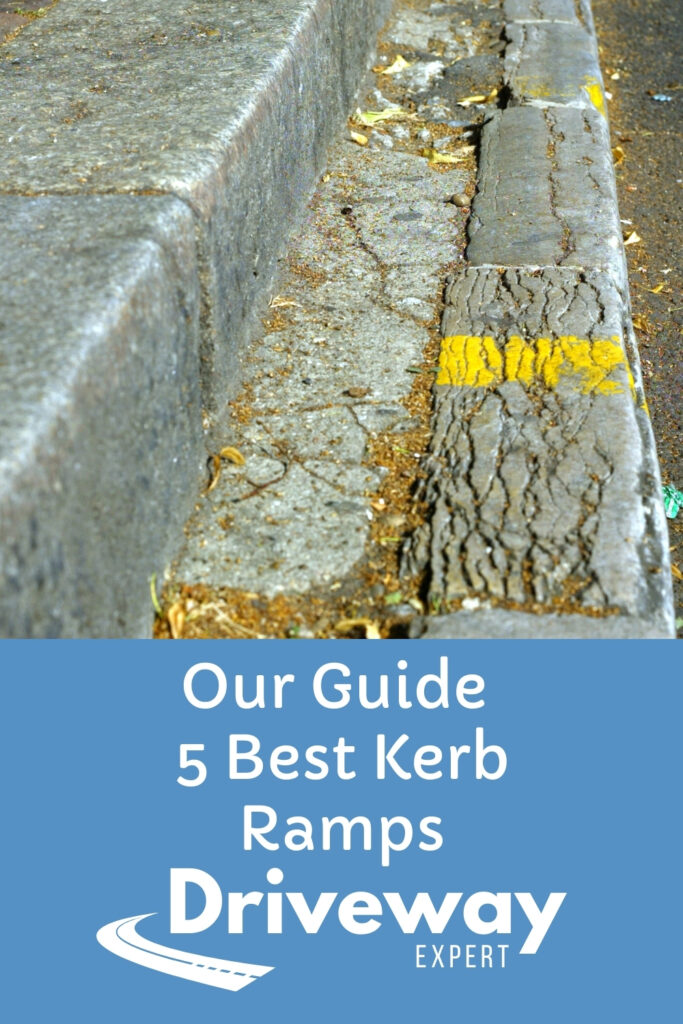 Top 5 Kerb Ramps
The market is awash with kerb ramps. Unless you've ever looked, you probably wouldn't have noticed, but once you dip your toes in, you'll soon see the vast choice available. But if you don't have the time to spend scouring the internet for the best option, we have done the hard work for you. Allow us to present our top 5 kerb ramps.
Best value For Money Kerb Ramps
HOMCOM Set Of Two Rubber Kerb Ramps
One of the first things you should look for when shopping for kerb ramps is whether they come in a pair. Unless you're wheeling a bicycle or motorbike onto the drive, you are going to need more than one. For the price you are paying for two ramps in this set, you could be forgiven for thinking that they didn't offer much by way of performance. But this would be an incorrect assumption. 
The HOMCOM rubber kerb ramps boast an extra thick design and a gradual slope that is ideal for domestic use. What's better is that they are suitable for a wide range of uses including getting the car onto the driveway or for use with wheelchairs and mobility scooters. Even if you have a larger vehicle, these versatile ramps will take up to 30,000kg – that's three tonnes, so you've no concern that they will fail you. 
With an embossed surface, your tyres will achieve greater grip making these much safer to use than their competitors. Moreover, this design ensures that they don't move around on the kerb as you get over them. 
| | |
| --- | --- |
| Pros | Conc |
| Extra thick for durability | Quite heavy at 18kg |
| Great friction | |
| Wide range of uses | |
| Carry handle for easy transportation | |
| Suitable for up to 3 tonnes | |
Best Plastic Kerb Ramp
QUUY Portable Lightweight Kerb Ramp
No products found.
Made from an incredibly robust PVC material, these lightweight kerb ramps are ideal for people on the go. If you don't need something permanent in place, their small size means that you can pop them in the boot without them getting in the way. What's more, weighing just 1kg, they aren't a pain to move from place to place. If you are using them because of a mobility issue, you will find them much easier to use even if you are without assistance. 
The QUUY kerb ramps are one of our favourite options because they come with choices. The ramps come in two sizes, either suitable for drops between 11cm and 13cm or in a slightly larger size for drops up to 16cm. If that wasn't enough, there is also a choice of colours. If you need something more highly visible, the yellow is an excellent option. 
Whether you are looking for a kerb ramp for your car or mobility vehicle or simply something to help you get your suitcase into the house after a holiday, these ramps offer stability and practicality. They feature a slot to prevent water building up and will slot together if you need a wider access point.
| | |
| --- | --- |
| Pros | Cons |
| Non slip design  | Not suitable for vehicles with wide tyres |
| Can be slotted together | |
| Choice of sizes and colours | |
| Made from durable PVC | |
Most Durable Kerb Ramp
Foliner Heavy Duty Rubber Kerb Ramp
No products found.
This kerb ramp is very similar in design to our previous option however, it is much wider and so suitable for cars that have slightly bigger tyres. That said, it is entirely possible to link the ramps together to create something that is the correct size for your needs. 
Much like the QUUY, this ramp is made from a strong PVC material. This offers excellent pressure resistance as well as featuring an embossed pattern for improved traction. While they are lightweight at just 1.7kg, each ramp is slightly larger and so will need a little more room if you wish to transport it. 
The Foliner ramp comes in a choice of two colours however, unlike the previous ramp, this one does not have options when it comes to size. However, it will serve a kerb with a drop between 12cm and 15cm so it does offer a degree of versatility in this aspect. 
| | |
| --- | --- |
| Pros | Cons |
| PVC for durability | Only comes in one size |
| Excellent traction | Only comes in a pack of one |
| Prevents water build up | |
| Choice of colours | |
| Good for vehicles with wide tyres | |
Best High End Ramp
SNS Safety LTD RKR 1M Rubber Kerb Ramp Middle Part
Sale
We couldn't put together this list without mentioning this incredibly versatile kerb ramp that can be used either on its own or as part of a larger setup. If you have a very wide driveway kerb then there may be a need for something more substantial and not only does this one come with the ability to be linked with other pieces but it is wider at 60cm.
The SNS rubber kerb ramp offers incredible durability and also comes with a set of bolts for fixing it to the kerb, should you wish to leave it in place for the long term. Although, owing to its heavy weight, it will easily stay in place when used as a temporary solution as well. For this, as well as the non-slip design and versatile nature of the ramp, you will pay a little more than some of the other options on this list. But since this is a ramp designed for commercial use, you can be assured of its quality. 
| | |
| --- | --- |
| Pros | Cons |
| Extreme durability | Expensive |
| Very stable | |
| Great for wider tyres | |
| Comes with fixings | |
| 10cm drop | |
Best Ramp For Disabled People
Rubber Threshold Ramp, The Ramp Store
For anyone who is looking for a versatile ramp that can be used for a wide range of applications then this super durable threshold ramp is ideal. It stretches over 90cm making it perfect for larger vehicles and wheelchairs. What's more, the ramp can be used alone or in conjunction with others to create something as wide as you need. 
Installing this ramp is quick and easy as it simply slides up to the kerb and with a robust built and stable design, it won't budge once in place. No fixings are required or included to keep it still but there's no reason why you couldn't purchase some if you wanted that extra integrity. 
But what truly sets the Ramp Store threshold ramp apart from its competitors is that, if you have a disability, you can purchase the ramp without VAT. To do this, you'll need to contact the manufacturer after purchase to arrange a VAT refund. 
| | |
| --- | --- |
| Pros | Cons |
| Wide platform | Max weight is only 1000kg |
| Good stability | |
| 10cm drop | |
| VAT exemption for those with disabilities | |
| Non-slip surface | |
What To Look For When Choosing A Kerb Ramp
Even with the wide choice out there, it is still possible to stumble upon a lot of kerb ramps that don't meet your needs. The last thing you want is for your ramp to arrive only to find that it doesn't meet your expectations and then the search has to start all over again. But with a little research and by taking the time to look at the specifics, you will confidently be able to choose the right kerb ramp. 
Profile Height
The profile height of the kerb ramp refers to the drop of the kerb. There is a standard kerb height of 100mm but it isn't unusual for some kerbs to sway from this average. For this reason, you should always take measurements before you purchase anything. There are some manufacturers that make kerb ramps in excess of 200mm but this is generally for a commercial situation as the kerb from your driveway to the road won't typically be this high. 
That said, if you are looking for a kerb ramp to use on steps within the boundaries of your property, these could vary drastically where size is concerned. 
Materials
Depending on what vehicle you intend on using with your kerb ramp, there are different materials and this is something very important to consider. Moreover, the type of ground you wish to fix them to will also play a part in the material you opt for. 
For example, a rubber kerb ramp is usually designed to fix to tarmac and concrete which means that they are easy and convenient to fix into place. You'll also find that they come in a range of heights so you can always find something to suit your needs. But what is truly great about a rubber kerb ramp is that they have some of the best durability available and can take an astonishing amount of weight. 
These kerb ramps are usually used in commercial situations and some are known to be able to take vehicles up to 40,000kg. Owing to their very nature, rubber kerb ramps are weather resistant and even when left outside for long periods, they won't deteriorate providing years of use. 
If you prefer, or if your needs demand, there are also a range of plastic kerb ramps. However, it pays to keep in mind that these are not as strong as their rubber counterparts and generally can only take around 2000kg in weight. That said, this is suitable for most small to medium sized cars in a domestic situation. These are lightweight options and offer a fair amount of durability, provided they are not overloaded. 
Fixings
As we have detailed in the above section, some kerb ramps, particularly rubber ones, come with fixings to secure them to the ground. This is an excellent option if you plan to leave the ramp in place over the long term. However, there may be some situations that don't call for a permanent fixture. 
An example of this is if you have visitors to your property that need to access the driveway in a wheelchair or other mobility aid. You may require a temporary ramp and there are many high-vis, plastic ramps than simply hook over the kerb and allow you to begin loading immediately without the need for fixings. 
Conclusion
By installing a kerb ramp you are protecting your car tyres from unnecessary damage as well as giving yourself a smoother transition onto the driveway. These simple devices come in a range of sizes and materials so it is important to assess your needs before committing to a purchase. 
Frequently Asked Questions
Do you need permission for KERB ramps?
Permanent KERB ramps are required to be installed by councils. It is a condition of development approval and you would need to get your council on-side with the idea in order for it to happen.
How do I choose a wheelchair ramp?
A kerb ramp has a slanted surface that is offset from the ground, which provides a slip-resistant ramp at an accessible height. The vertical profile of a kerb ramp includes no ledges or other changes in level that could pose a safety risk to mobility devices.
Wheelchair ramps come in many different styles and sizes to accommodate individuals with various access needs and abilities; generally, length plays little part in wheelchairs' ability to traverse the incline and get over/through it. Wheelchair ramps are often made out of aluminum, steel, stainless steel or fiberglass reinforced plastic (FRP). Each material has its benefits–steel can be bent to form ramps with gentle curves while aluminum doesn't rust but is more difficult.