If the kerb outside your home is not dropped, this can make it very difficult to get vehicles on and off a new driveway. Not to mention the stress it will put on your tyres over the course of time. But as with any type of work, there are rules that you'll need to abide by and one of the most frequently asked questions is do you need planning permission for a dropped kerb?
For the most part, you will need to apply for planning permission to drop a kerb. However, this does not apply to unadopted or unclassified roads. There are also criteria that must be met in order for the kerb to be considered legal. 
It can be pretty confusing to wrap your head around all the ins and outs of dropped kerbs and get around all that red tape. But we have simplified everything for you and this guide tells you all you need to know about applying for planning permission for a dropped kerb.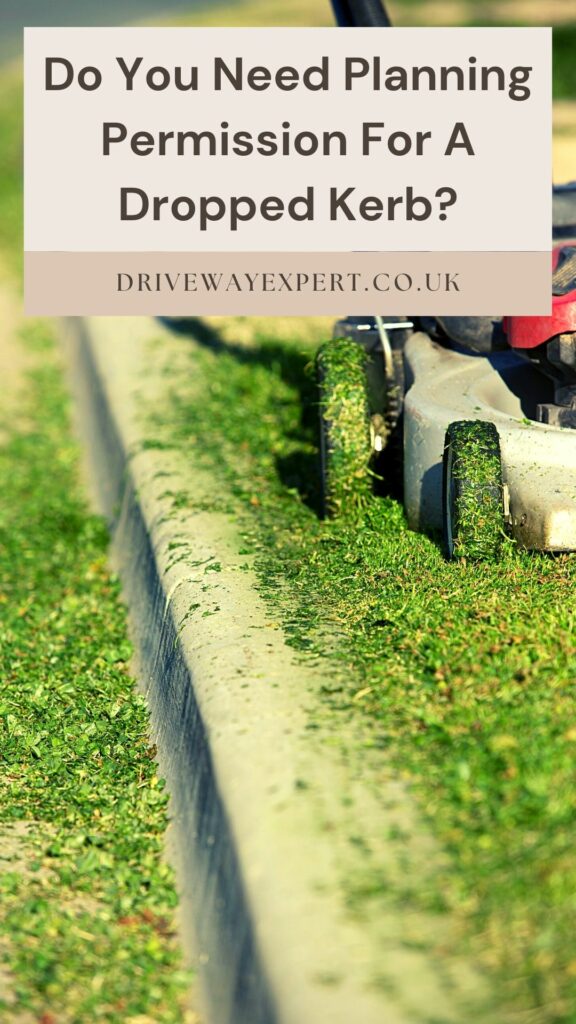 What Is A Dropped Kerb?
Dropped kerbs are lowered kerns which allow a vehicle to move across a public footway in order to gain access to a private drive. The main benefit of these dropped kerbs is for safer off road parking and when in place, both of these things may increase the value of your property. 
That said, it is important to keep in mind that just because having a dropped kerb increases your property's value, that doesn't mean the kerb belongs to you. In fact, it will remain part of the public highway. The good thing about this is that you won't be responsible for any maintenance as this will be carried out by the local council.
However, since the dropped kerb does not belong to you, you are not legally allowed to park your vehicle on it. While many UK drivers do park on dropped kerbs, this is far from being legal and there are actually penalties for obstructing a public footway.
A dropped kerb typically measures 2.4m across. That said, there may be instances that the kerb needs to be shared by two neighbouring properties. In this case, it can be made wider. In any case, it's important to keep in mind that to qualify for a dropped kerb, your driveway will need to be at least 4.75m long and this must be constructed before you can apply for the dropped kerb.  
Do You Have To Have A Dropped Kerb?
If you have recently installed a new driveway, you might wonder whether you even need to bother with a dropped kerb. After all, if you're not fussy about driving over a full kerb, what's the point?
The reality of the situation is that it is a legal requirement to have a dropped kerb if you intend to drive your vehicle over a public footway to access your drive from the road. If there isn't a dropped kerb, it's illegal to drive over the public path and if you are caught, action could be taken against you. 
The main reason that this law is in place is to protect pedestrians; there is a much higher risk of having a collision with someone using the footway when moving over a full kerb. What's more, if there is any damage to the footway as a result of you driving over it, you will be liable to pay for repairs and that's not a cost that any of us wants to incur. This also applies to any utilities that are placed under the footpath.
In short, if you're installing a new driveway, it's a far better idea to go ahead and apply for a dropped kerb than risk legal action or repair fees. 
Do I Need To Get Planning Permission For A Dropped Kerb?
The big question on everybody's lips is whether or not you need to apply for planning permission for a dropped kerb. Quite simply, the answer is yes, you will need planning permission if you want to install a dropped kerb. 
This is according to the Town and Country Planning Act of 1990. The rule applies to properties that are placed on a classified road. If your driveway is on a non classified or unadopted  road then you won't need to apply for planning permission.
However, you should keep in mind that there are some things you will need to ensure before you make your application. The main criteria are to do with your front garden or driveway which must be at least 4.2m deep. However, if your property is wider than 6.5m, the driveway only needs to be 3.8m deep. Where planning permission is required, the driveway must be at least 4.8m.
But these aren't the only things you'll need to think about as there are other factors that come into play when determining if planning permission is needed. These are some of the things that might affect whether you need to apply:
Is the property in a conservation area?
Is the property divided into apartments or flats?
Is there a boundary wall measuring more than one metre that must be taken down in order to install the dropped kerb?
Does the driveway exceed 5 metres? If so, planning permission will be required irrespective of other mitigating factors so as to prevent rainwater from running off the driveway onto public roads which comes with a risk of flooding.
Once you have determined whether or not you need to apply for planning permission, you can start the application process. We will cover this in more detail later in this guide. 
How Much Will It Cost For A Dropped Kerb?
One of the main things that people worry about when considering any type of work is how much it will cost. There are several factors that will impact the price of the job including your location. That said, it costs between £1500 and £3000, on average, to install a standard dropped kerb. 
However, you should also consider that there are other costs involved such as applying for a licence which is typically around £300. You may also need to enlist the services of a planning consultant in which case, you would have to factor in their fees as well. While these will vary, prices generally start from around £50.
How Do I Apply For Planning Permission For A Dropped Kerb?
When it comes to applying for a dropped kerb, you'll need to start by using this link on the government website. You may be able to do some of the paperwork for this yourself but in many cases, a planning consultant will need to help you. You don't have to employ their service; the contractor that will undertake the work can fill in some parts of the paperwork for you as well. 
Do keep in mind that when choosing a contractor, they will need to have at least £5 million of public liability insurance as well as fully accredited staff who will carry out the work. Moreover, there may be some councils that require the contractor to be on the highway authority's approved list so this is something worth checking out before making any commitments to a certain firm.
When applying for planning permission you will need to make sure that you have detailed plans of the work to be carried out. If you don't then you may find it difficult to obtain permission. Photographs are not usually accepted as plans and you'll normally need detailed drawings with accurate measurements.
There are also other factors to think about. For example you must be able to fit a standard vehicle on the driveway without it hanging over onto the footpath. This is where those measurements we discussed earlier come into play. This applies even when you have a smaller vehicle. 
Other factors that may come into play when considering your application include any obstructions such as trees, parking bays, road signs, bus stops and utility covers. This is why it's a good idea to involve a planning consultant who will be able to work around these issues for you.
You will need to make a non refundable application fee which the council will take once you have submitted all of the relevant paperwork. Someone will then complete a site safety assessment and if this is passed, you will then need to pay a further fee. The council will then provide you with a construction specification and your chosen contractor will have to work to this by the letter. 
Usually, you will be expected to have carried out the work within six months of your site safety assessment. 
Can My Request For Planning Permission Be Denied?
It is more than possible for your request for planning permission to be denied, especially if the paperwork hasn't been completed properly or if you have not supplied suitable plans. 
But these aren't the only reasons that your request might be turned down. One of the main causes of rejection is a driveway that is not large enough. Another reason is that the visibility from the driveway is obstructed or the drive is too close to a junction on the road.
There are plenty of other things that will determine whether you are granted planning permission such as whether there are any obstructions. However, in many cases, you will be given the option to pay for these obstructions to be removed. Trees are usually the most affordable at around £600 each but when you start moving things like bus stops and road signs, this can cost in excess of £3000! Moreover, there may be utilities that need to be moved and the cost of this can be significantly higher.
The good news is that if your request for planning permission is denied, you do have the right to appeal. Where you live in the UK will determine the process for this so check how to go about it with your local council. 
Conclusion
If you are installing a new driveway on your property and require easy access via a dropped kerb then, in most cases, you will need to apply for planning permission. This is done through your local council but keep in mind that there are costs involved and if the application is not completed correctly, your request could be denied.