If you're in the process of creating a patio, driveway or any other outdoor space using paving slabs, then there are a lot of things to consider. For starters, you'll need to pick the colour, texture and size of your pavers. After that, it's time to think about how you would like them laid and what pattern you'll use. 
The choices might feel a little intimidating so we have created this guide to help you make the right decision for your outdoor space. We'll talk through the pattern options as well as giving you some tips on getting your paved area spot on. After all, you're going to be living with it for a good few years to come!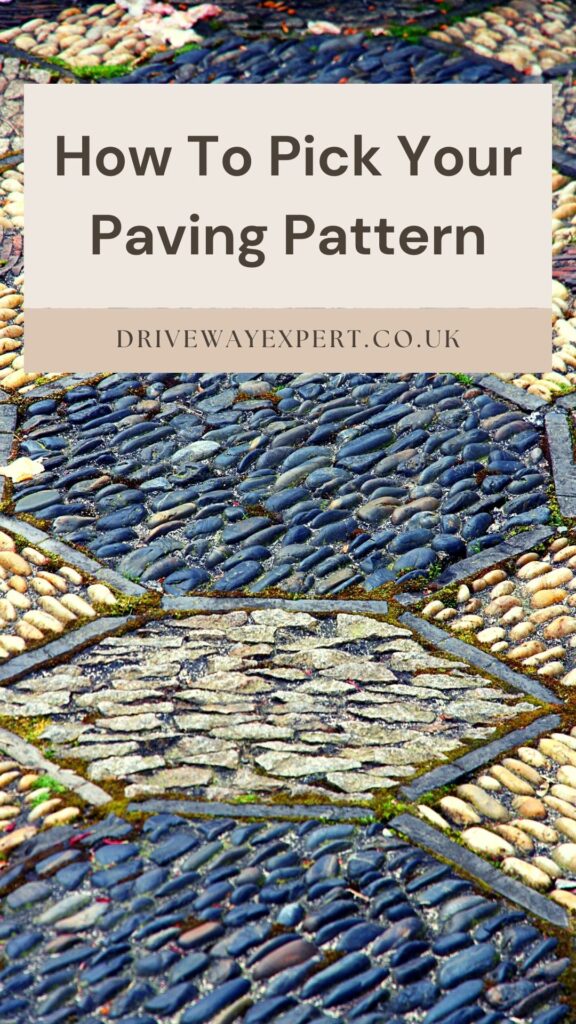 Different Paving Pattern Options
There are lots of paving patterns to choose from so you'll likely be able to create an area that is unique to you, especially when you consider the number of options where colour and texture are concerned. However, not all paving patterns are suitable for all areas. Let's take a look at some of the most common.
Random Paving
Random paving is as its name suggests; randomly laid. This is a great option for people who don't want such a formal looking area with very regular lines. A great way to achieve this is by purchasing a selection of slabs in different sizes. As you lay them, you can mix sizes to get a truly random appearance. 
That said, we wouldn't suggest going in all guns blazing. You will need to create a plan first to make sure you get accurate coverage. Making a sketch of the area and laying the slabs dry first are two of the best things you can do to ensure success.
If you want to make things even easier then there are patio packs that you can buy which contain a variety of slabs in different sizes. Sometimes, these packs will include a motif which you can repeat across the slabbed area although you still get a random look and you don't need to worry too much about technicalities when laying. 
Stack Bond Paving
You will only be able to do stack bond paving if you are using square slabs. This is a really simple yet attractive design that is often referred to as a chessboard style. 
You'll lay your square slabs in geometric lines. You can use any size and colour to make the patio your own.
What's great about this style is that you won't have as much wastage as some others owing to the fact that everything is perfectly lined up. If you're looking to get the most out of your materials, this might be the right pattern for you. 
That said, while stack bond is a simple design, it can be quite tricky to get right. This is because the joints have to be extremely precise. If there are any imperfections then these will stand out like a sore thumb. Once everything is laid and cured, the last thing you want is an eyesore.
Some people choose stack bond patterns because they like a uniform look in terms of geometry. However, if you want to create something that's a little less uniform then you could choose slabs of varying colours to make it a little more eye-catching.
You must consider the type of slabs you are using as not all of them are suitable to stack bond patterns. For example, certain types of riven sandstone may not have uniform edges and so won't be ideal for this type of project. But if you're using concrete slabs then the perfect edges will help to create a very formal look. 
Herringbone Paving
If you are using rectangular shaped paving slabs then you might choose a herringbone pattern. This pattern is very similar to that of parquet flooring so is great if you want a more traditional appearance for your outdoor area. 
Usually, you would use 30cm x 10cm blocks to create a herringbone pattern; this is something you've likely seen on block paved driveways. But it works equally well for garden paths and patios. 
What's great about using these paving blocks is that they're incredibly durable and robust so are brilliant for areas that will see a lot of traffic. With the interlocking design, herringbone patterns won't shift over time giving you a much longer lasting area. 
Stretcher Bond Paving
Do you like a very simple yet elegant look? If so then your stretcher bond paving might appeal to you. This is sometimes called running bond or offset paving and involves laying the slabs so that the joints are offset by half the width of each slab.
The key here is that you have to use paving slabs that are all the same size so the benefit is that you get an incredibly uniform look. Moreover, once you get started, installing the slabs doesn't take much effort and this is one of the least time consuming options.
Tips For Paving Patterns
It's all well and good choosing a paving pattern based on what you like the look of but there are further considerations if you're going to make the right choice. 
Where Will The Paving Go?
As much as we would like to tell you that you can choose paving patterns based solely on what appeals to you visually, this isn't the case. How you're going to use the space will play a role in determining the best pattern. 
For example, areas with a lot of traffic will wear much more quickly so you'll need a pattern that has good stability and won't shift. This is why a lot of people opt for a herringbone pattern in this instance.
But if you're paving an occasionally used area such as a patio then your options are more open and you might choose a random pattern or perhaps the stretcher bond style.
If you're in any doubt about what will work best for your paved area then speak to a landscaping specialist who will be able to give you the most appropriate advice. 
Choosing The Right Colour
A pattern might look great on its own but you will need to think about choosing the right colour slabs to compliment it. When it comes to paving stones, there are masses of options in terms of colour. A lot of people opt for a natural colour but there are other, more intense options like blacks and greys. 
It really comes down to personal preference but you should keep in mind that the colour of the stones will change over time. This is due to exposure to the weather including things like rain and UV rays. But most people would agree that natural stone gets better with age so this isn't necessarily a bad thing.
If you're going to have an insert within your paving, you might consider having this in a starkly different colour to add a bit of drama. But even if you're having a regular pattern, there's nothing stopping you mixing things up in terms of colour. 
You should take the time to see which colours work best together and figure out how you'd like them laid. There's no right or wrong, it's all about what catches your eye. And the choices are pretty much endless. That said, we would recommend keeping in mind that adding a very extreme looking patio might put potential buyers off if you ever decide to sell the property. 
Choosing The Right Joint Width
The right joint width will largely depend on the slabs you are using. There will be details on the pack that give you a recommended joint width and this can vary drastically. For example, some may have a larger joint with around 10mm whereas others might have something very narrow, as small as 3mm. 
While it is possible to adjust the joint width to your liking, you have to keep in mind that this will affect how much coverage you'll get per pack. Moreover, if you make the joint width much bigger, this will impact the overall dimensions of the paving pattern. For the best results, it's a good idea to stick with what's recommended.
Getting The Right Number Of Slabs
You can spend weeks, even months, planning your new patio but there will always be room for something to come out of the blue. One of the things that a lot of people make the mistake of doing is not buying enough slabs.  
While your pattern may call for a certain number of slabs, you have to account for any errors during installation, miscalculations and other things. For this reason, it's advisable to buy at least 10% more than you need. 
Yes, you could down tools and order more slabs part way through the job if you need to but this will only result in a delay. If you have the slabs ready to go, you can get the work done and enjoy your newly paved area much sooner. 
Another great reason to have extra materials is that there may be natural variations in the slabs that affect how they can be laid. Having more will allow you to work around this and use a different slab. 
Working Around Obstacles
Unless you are lucky enough to have a perfectly shaped area to lay your pavers then you're going to need to be prepared to cut the slabs at some point. Proper planning should help to reduce how much cutting you'll need to do but it's never going to be 100% avoidable. 
For starters, the slabs might be too big to fit perfectly into the area so you'll need to cut them down around the edges. Fortunately, this is relatively simple if the edge of the patio has straight lines. This is very important if you're using a repeated pattern otherwise the edges may stray away from the pattern.
Also think about any drains, corners or steps within the area that might force you to cut a slab. Again, planning this out before you start working will make life so much easier. 
Conclusion
A beautifully paved area can make a real difference to a garden or driveway. However, since there are so many patterns to choose from, it can often feel overwhelming. The key to choosing the right pattern is to think about where the slabs will be laid as high traffic areas require different patterns to low traffic areas. 
But there are other things you'll need to think about including colour, cutting the pavers and buying the right number of slabs, among other things. Proper planning and careful consideration will help you to achieve the paved area you've been dreaming about.